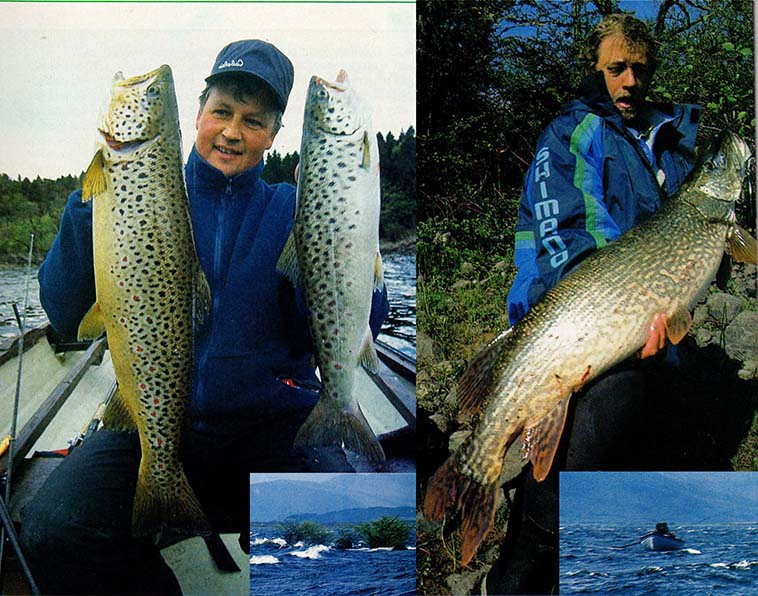 Lough Mask is considered one of Ireland's finest trout lakes. Bertus established a new one in it, Ireland's unofficial record in… pike. The fish caught by the Dutchman had 19,5 kg.
In the second half of the 1980s, I caught trout a lot. I was convinced, that one of the best fisheries in Europe is Veerse Meer in the Netherlands. At that time, in fact, large trout were caught in this reservoir. These fish, however, came from the annual, very intense stocking. So soon I started dreaming, to go fishing with naturally occurring trout. Some time has passed and here I stood for the first time at the famous Irish lake Lough Mask. This lake is home to larger trouts than any other body of water. Lough Mask is a real adventure. The wind is howling over the lake, just below the surface there are treacherous rocks standing upright in the water. This lake has a special charm "You love it, or you hate it', my Irish host spoke – "You love them, or you hate them".
From the whole group of anglers, with whom I went to Lough Mask for the first time in my life, we only loved this lake the two of us – me and my friend Henk. It was love at first sight, and Henk did not even mind that, that he hadn't caught a single fish during his first visit to Lough Mask. Later that changed, of course, and together with Henk we caught giant trout every year, some even weighing over 5 kg, constantly gaining new experience.
The first ten-kilometer boat
Looking back, in the first year our trout were quite small – but still big enough, to come back to the same place every year. Pike was also interested in our lures from time to time, however, these were not specimens. We got to know Lough Mask so well over the years, that we knew without any problems, which places are good for trout, and which ones for pike. After the Irish stopped intentional net fishing for pike, we caught bigger and bigger esox every year. We managed to catch the first ten-kilo boat three years ago. And yes, As in the beginning, we were not interested in pikes at all, so now they started to be as attractive as trout. So we started tying bigger and bigger wobblers to the lines. As a result, we were catching bigger and bigger trout, including 7 kg, and at the same time we still had a chance to catch a really big pike. Saying "bigger wobblers" I do not mean, of course, the 30 cm "brush sticks."". I believe, that even an 18 cm wobbler is big enough, that even the biggest possible pike would be tempted by it. From year to year, bigger pikes provoked us to devote our attention to them more and more often. We didn't notice, and the fish, which we have been catching in Lough Mask so far only on the occasion of hunting trout, suddenly it became the main focus of our fishing trips.
If someone in your own country catches over the course of the whole season 10 meter pike, he is immediately recognized by everyone as an outstanding specialist in catching these predators. Last year, Henk and I caught ten meter pike in one Lough Mask only, and we were on this lake for only three weeks. The first fish, I caught last year right after I got to Lough Mask 126 cm long and weighed 17,5 kg.
The pike team
This fish was the best proof, that in a lake like Lough Mask, catching big fish is only possible in a very harmonious duet. This pike was tempted to be pulled 40 meters behind the wobbler boat. With gusty winds and giants, almost two-meter waves, at the time of the bite, it almost tore the stick from its holder. I realized immediately, that it is a pike. A jammed trout immediately pulls the line from the reel, while the esox shows what it can do only near the boat. Henk immediately took over the oars, first, however, in the greatest hurry, he rolled up the three remaining spinning rods. Only then is it possible to successfully haul a large fish, when the boat is relatively still in one place. During the fight with the pike, I witnessed Henek's murderous fight with the wind and waves. The engine was not running, for it will be patched by water at the beginning. I couldn't handle it myself, and so. after fifteen minutes the pike was in the boat. This was the first of 7 pikes weighing over 10 kilograms, which we managed to catch during this trip.
This year I was also on Lough Mask. Together with Henk, of course. We were in a good position, that we roughly knew already, where to look for the biggest esoxes. We didn't do very well at first. We had two takes, but we failed to hook these fish. After some time, I had an epiphany – pikes attacked our lures from above! Because I noticed teeth marks on the back and head of my super shad black lures. Black? This is, black, because v 1994 I received a few "unsuccessful" models in this color from Rapala. Luck wanted, that just for these wobblers, with pale bellies, we had most of the strikes this year.