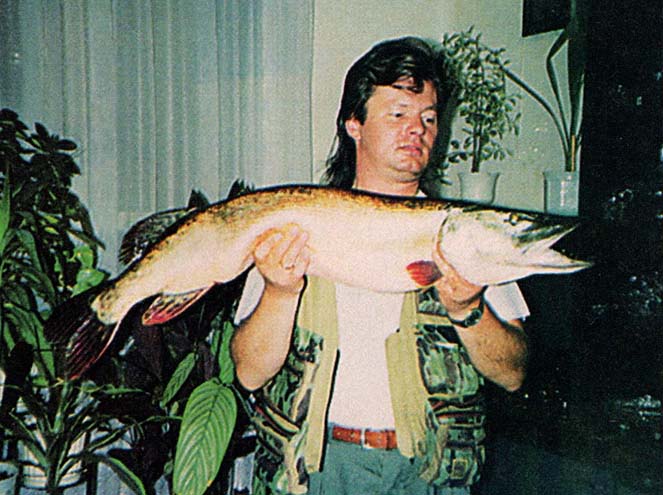 Czestochowa, 31 October 1994 r. I am your regular reader and a member of "Your" and "My" Club since its inception. I would like to congratulate you on the direction, the nature and quality of your website. So I will allow myself only one short statement - "HOLD THIS".
advantage of the opportunity, I would also like to submit my esox to your table of records. And it was like this. 1.10.1994 r. I went fishing on the Poraj reservoir, close to my place of residence. Due to previous duties, I was on the water only at an hour 11.00. The day was cloudy and there was a strong northwest wind. I anchored the boat on the leeward side, at a distance of approx 40 meters from the shore.
Counting on perch bites, I decided to go green, 6-centimeter twister. I was fishing with a line 0,18 mm (Tectan), like Cormoran PRO-Star 240 cm and a Shimano reel. Taught by experience, I tied the bait on a long tungsten leader. The depth of the fishery was approx 3 meters. Fourth throw towards the shore, the last movement of the reel handle completes the removal of the bait and I feel a gentle tap, as if the twister was nudging a little bass. A delicate cut and to confirm my assumptions, slight resistance on the stick. I hold the tip upwards without any reaction at the other end of the line. Suddenly the rod bends into an impressive headband, and the reel starts to play the most pleasant melody for the angler's ears. This "something" goes without any problem to a distance of approx 20 meters towards the center of the bay. After a few more departures, I manage to gently and sensitively lead the fish almost to the boat. At this point, however, the real dance began. A take for the boat and there is no way I can tear the brick pike from the bottom. I am perfectly aware of it, that my set is not very durable. Not wanting to lose such a nice specimen, I make an immediate decision and pull my anchor. After a while, a strong wind carried me to the shore. I jumped out of the boat and after ten minutes, stepping knee-deep into the water, I finally managed to pick up the pike with my hand and carry it ashore. Nice art. After returning home, weighing – 8,45 kg. The predator had a length 110 centimeters. The unforgettable hall lasted approx 30 minutes. With regards to fishing.