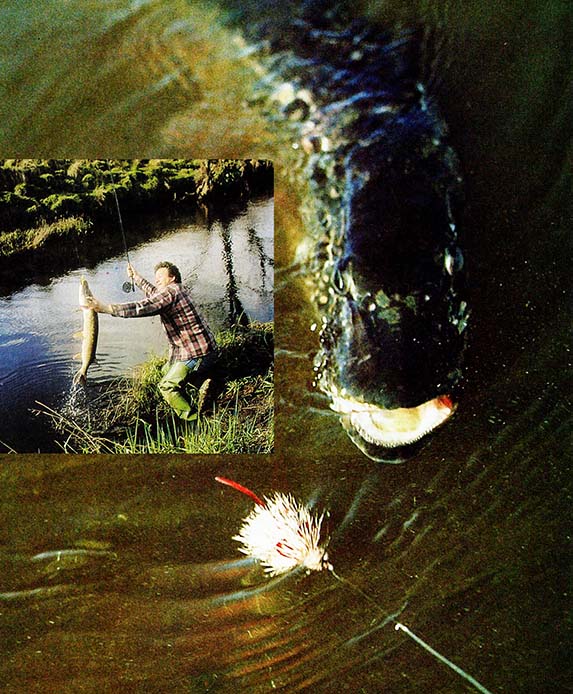 In Europe, fly fishing for pike is still not popular. End of it, convinces Ingo, It's high time to start fishing for poppers!
You know this story? During a hunted hunt, the barren pheasant fell to the surface of the little one, a lake overgrown with reeds. Before the rushing dogs managed to bring back the fluttering feathered prey, the surface of the water rippled and a huge pike dragged the unfortunate bird into the depths. The hunters gathered on the shore froze and immediately began recalling their four-legged helpers from the water.. Only then did they calm down, when all the dogs, safe and sound they were finally on the shore. Truth, that quite a nice story? To, will we believe in it, it is quite a separate matter. –
Cautious predators
Pike are sometimes in such a hunting trance, that they can attack literally anything that moves in the water, even (according to Max Piper) single "apples" of horse droppings … but enough of these jokes. Every pike angler knows perfectly well, that the pikes are rather slow to make up their minds, that they are very prudent and extremely cautious predators.
Some spinning anglers, unaware of it, lead their lures so quickly and wander along the shore so quickly, that they are already over a hundred yards away, before any pike even realizes it, that silver lightning, which had just flashed over his head, perhaps she was something edible…
Fishing slowly
Pike bait should move as slowly as possible. Seems, that the slowest working lure, suitable for pike fishing, there is a floating wobbler. But is it sure? It turns out, that such an artificial bait has already been invented, which can be driven even slower! I prefer predatory fish close to my place of residence, because the abundance of pike, zander and perch in all the surrounding canals and polders is still at a very satisfactory level. It is true that my colleagues "stools" have been complaining about the lack of success for a long time, the same cannot be said of the few spinning anglers. There, I know, they usually don't boast about their good results.
Pike hunting, however, is not always idyllic.
The absolute majority of fish are caught near the coastal reeds and it happens quite often, that a hunting predator can scare the angler well. I will be happy to tell you now, what kind of angler is I?, although speaking between us, it happened to me too, that out of admiration or utterly scared I did not cut many fish taking. The attack of the pike just below the feet makes a huge impression on everyone.
Effective flies
Fishing in the polders has its own rules. This also applies to lures. Well it turns out, that such artificial bait, like spoons and twisters are not the most effective at all. Centrifuges are good, even better wobblers, but artificial flies are unrivaled. Saying "flies", I mean, of course, large enough streamers. When fishing with streamers, pike also have a particular predilection for attacking this lure right under the angler's feet..
Explosive attacks
During control fishing with a long salmon rod, rather intended for smaller salmonids, we can not only guide the streamer
at a safe distance from the reeds, but also, longer than with other artificial lures, move it in the coastal strip of water. So we are able to take full advantage of the two greatest advantages of this lure, namely lightness and extremely natural movement in the water. The streamer dances more provocatively on the surface, the more often explosive attacks occur. You know, that the pike is a very cautious predator and only when it has enough time, to look at the bait, take a bearing on it and look again at it. he throws himself at her in a lightning attack. Taking into account the above observations, I finally came up with the idea of ​​catching these fish with poppers.
Immediately successful
You can say very generally, that poppers are a kind of floating streamers. Depending on the shape and operation in water, they can be divided into loud divers, silent sliders and a few more groups. In Europe, fishing knowledge about poppers is still at pre-school level. In fact, I am not even surprised, since it took so many years to accept twisters…
Although fishing for pike with streamers is becoming more and more popular every year, because this method is extremely effective, the knowledge of special surface pike lures is still almost nil.
In the USA, however, large poppers can be purchased at any tackle shop, because largemouth bass is caught with this lure on a daily basis across the ocean. In the United States, you can also buy large poppers for fly fishing in the sea. These lures are also very effective for our freshwater pikes. Before I had the opportunity to buy this lure overseas for the first time, my poppers have proven to be so effective, that I actually gave up unnecessary spending.