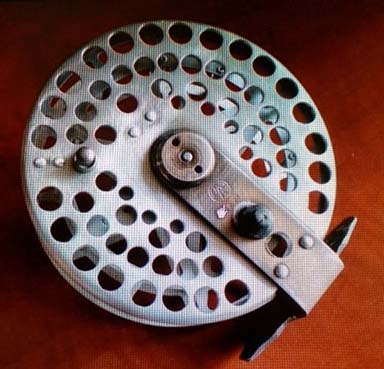 Effective pike fishing is also possible with a reel with a movable spool. It does not have to be an internationally recognized Nottingham reel. The author is a supporter of spinning from the katuszka.
My adventure with torture started almost twenty years ago - time flies fast – and regardless of possible revolution in fishing techniques, absolutely, as I define it, nostalgic, catching up on me once in a while, anxiety of the soul, that is, such fishing, which at the moment gives me the greatest pleasure, I'll have my head cut off, that this adventure will last until the end of my fishing life. It is something like a very narrow specialization in catching predatory fish, or more precisely in pike hunting. What is a torturer? Where does this certainty and the risk of losing my head come from?? Co, on hell it means the multiplier section? Let me explain.
Lost to society
I'll start with this, that as a six-year-old boy I heard for the first time from "non-anglers", friends of my parents, that if it goes on like this, soon I will become a man completely lost to society. My passion for fishing, awakened by her father at the age of three – so, so, it's the honest truth – everyone noticed and even wanted to make a bet in their jokes (I know it from my parents' accounts), that soon I will not see the world except for fishing. However, I deviate from the topic. Katushka, name borrowed from the Russian language, it is a large reel with a movable spool, associated only with fishing with the bottom method. A crude stick, big weight, thick fishing line, bait for catfish and reel – is a typical equipment of river anglers from several dozen years ago. However, it turns out, that such a torch can also be successfully spinning. Impossible? It is possible and it is possible.
There are still many anglers in Poland, who started that way. Several decades ago, it was the only reel model available on our market and you, who dreamed of spinning had no other choice. With time, however, very practical fixed spool reels appeared and most of my fellow spinning anglers quickly got used to this technical novelty.. It is quite understandable. I started that way too.
Learning to throw again
I was eleven and I don't even know, or fishing, or maybe it's better to say that while learning to fish with spinning, I did not violate the regulations of the Polish Angling Association.
I confess with quite mixed feelings, that at the beginning of my fishing career I was not very ethical. Each caught fish turned out to be so remarkable and to be proud of at home, that I was taking everything as it goes. Only with time did I start to treat our hobby completely differently. I have been releasing all fish for many years, which is even half a millimeter short! I also do not find a word of understanding for "colleagues", who stretch head and tail, for example, trout, that the fish "become dimensional".
However, I am deviating from this again, what I want to tell you. I started fishing for pike in a very traditional way. Czech full-fiber stick, bought with money saved for two years, the Stabil reel by Tokoz, fishing line in diameter 0,40 mm, provided for two, three seasons and a few special spoons of my own design allowed me to judge, that I am the most modern angler. Setting new records in pike, perch and zander (I grew up in Masuria, and there only these fish really count) was supposed to be a matter of the near future.
Apart from fishing trips on my own, I often went on spinning trips with my father. And I always got the loot! He was my fishing promoter, a great teacher and I have been careful for a very long time, that I will never be equal to him. Another lesson in a row, when torturer (!) dad already had three pikes and probably two dives, and me, supposedly already experienced enough, with several dozen esoxes on the account (on traditional equipment), I haven't had a single take, however, it gave me food for thought. How is it, that my daddy is still taking, and not me? After all, we fish from one boat, almost the same lures and I still don't even have a pop. Could this crude reel, about which I had a rather disdainful opinion so far, decided about success? While still on the boat, I raised this topic and after a short lecture, and what was it about, about that in a moment, I decided, that I will learn to fish with it. It happened so, that my father never switched to "headband" reels and, what not to say, as an unrepentant conservative, he achieved perfection in the art of pike fishing. Only then did I make the connection, that he was never too eager, so that I can try to throw myself his spinning rod. – You have to know it, you just tangle my line, better not – he acknowledged all my attempts to take his equipment in his hands. After this conversation, however, when I expressed my sincere desire to learn, dad bought himself a new spool of fishing line (he knew what was going on) and handed me his spinning rod.
It was a horror movie. For two weeks, several hours a day, I was learning to throw from the pier and the lack of any biting I explained to myself, that this particular place was not very attractive. It is a fact, that I spent most of my time untangling fancy hedgehogs from the line, and throws, which I succeeded at times were very short. A year later, thanks to the katuszka, the Masurian Lake Wałpusz seemed to me to be the best pike fishery in the world, but all in order.